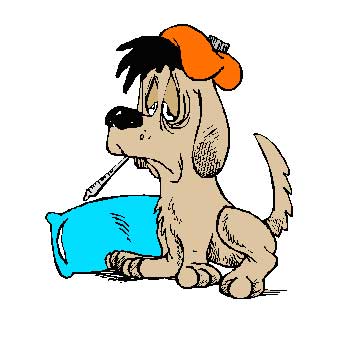 I was not in a good shape since I woke up yesterday morning ... head was spinning...throat was so itchy... the whole body like was going to break down... Anyway, I was fighting with the sickness throughout the day until after my gym workout in the evening... I was totally gave way to the virus after my Step and Bodypump workout... ok! ok! ok! Virus you win the games ... Sigh~ Sigh~ Sigh~....
I was having light fever last night when i came back from the gym... After finished all the washing (gym clothing, dishes), I was chatting with my friends in MSN as usual... one of my friend said that i did too much workout that's why i'm sick ... errrrr... am I? blek!... 
Another doctor friend of mine asking me to hit the bed earlier and asked me not to sleep in nude... errrrrr... how he knew that i sleep naked ... hmmmm :p Oh yes! I wrote once about sleeping naked in my recent tagged... oops... the whole world knew i sleep naked now ...  *face turn red* 
Guess what? Since young I have always be a good boy and listen to the doctor's advices... So i went to sleep @ 11am. I woke up @ about 9am this morning... not totally recovered but feeling better... I took my light breakfast and dozed off again in the living room until 11am... 
It's about lunch time ... what should i have for lunch... errrrrrr.... 
I'm lazy to go out to buy my lunch even it's just take a lift and go down to the cafe... 
i'm thinking to have Pizza and Buffalo Wings from Dominos
Do you believe that people who felt sick usually have some strong food craving ... errrrr... I want to eat buffalo wings and Pizza from Dominos. Okay, at one time, i was so pissed and boycott them... but i would like to break the boycott and order a pizza now.. so can i have Pizza from Dominos? Or anyone kind enough to buy me lunch and send it to my place with TLC ... :p
I'm still feeling a bit tired and a bit weak to hit the gym today... a day off for Gymrat TZ... no gym today! My mission today is sleep sleep sleep and recover as soon as possible... zzzzzzzzzZZZZZZzzzzzz