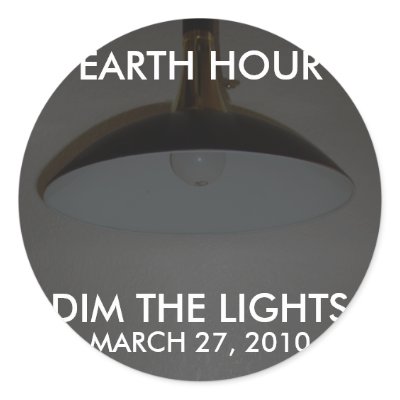 Picture Adapted from
www.zazzle.com/dim_the_lights_fo...84709530
Seems like everyone is talking about Earth Hour... So what is your plan for tonight? Stay @ home switch off the lights and make your air-con full blast. Boot up your computer and start Facebooking, blogging, MSNing what else... or Gaming too :p Or....
Anyway, it's not important whether you are participate in the so called Earth Hour 2010... It's important you save energy, save the environment, save water, do recycle and blah blah blah... every hour in your life rather than just do an hour lights off and announce to the world saying that i have done my part to participate.
The Earth hour thingy is just another commercialize trick, don't you agree? Like Valentine days... some restaurant and bar are offering Earth Hour dinner set, Earth hour drinks... etc etc. Is there commercial or what?
Anyhow, I will be eating my nice shrimp and chicken wing @ YUEN tonight. So not sure whether YUEN will lights off for 1 hour... it'll be interesting to know how to fight for Chicken Wing in dark... Will you get a chicken wing or you get a hunky arm &/or a hairy arm &/or a skinny arm &/or a flabby arm... etc :p wakakaka...
It's our duty everyday to save our planet
Save the environment, Save the mother earth