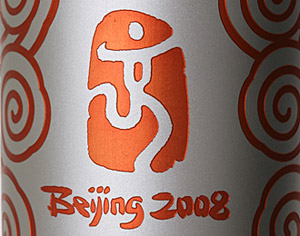 The 2008 Olympic Torch has arrived in Malaysia... there will be a run on April 21st 2008 (Monday) 10am onwards... there will be a big celebration in Petronas Twin Tower late evening before leaving for the next stop Jakarta, Indonesia... :->
I have a PT session on 6pm which i don't think i would be able to attend the celebration in KLCC @ about 6pm... for those who worked near KLCC... this is a chance for you to witness the olympic torch since you are not able to go back home due to the road closure... :->
Some fact on the
Beijing Olympic Torch
The Beijing Olympic Torch boasts strong Chinese characteristics, and showcases Chinese design and technical capabilities. It embodies the concepts of a Green Olympics, a High-tech Olympics and the People's Olympics.



The Key Facts about the Torch


The torch is 72 centimetres high, weighs 985 grams and is made of aluminium. The torch is of a curved surface form, with etching and anodizing being used during its production. A torch can usually keep burning for approximately 15 minutes in conditions where the flame is 25 to 30 centimetres high in a windless environment. The torch has been produced to withstand winds of up to 65 kilometres per hour and to stay alight in rain up to 50mm an hour. The flame can be identified and photographed in sunshine and areas of extreme brightness. The fuel is propane which is in accordance with environmental guidelines. The material of its form is recyclable.