Darrenzeger
and I woke up quite late after a full day trip to Jamesbond Island and enjoyed ourselves @ the bar hopping the night before... :->
Thailand local beer... yummy!

Anyway, we spent about 1.5 hours in the internet cafe that morning just to transfer all the photo so that the memory card could be cleared up for more picture. We checked out and waited for the minibus person to pick us up at about 1pm. About 45mins ride from Patong Beach to Rasada Pier south of Phuket town. The minibus picked us up @ Patong and we went thru Phuket town.
Phuket Town


TZ taking picture


Thai Boy... Don't know what is he staring...
After about 2 hours boat ride, we finally reach Koh Phi Phi. I was so excited to see the nice island that i wanted to go since years ago :-) We stayed in a 4 stars hotel @ the Phi Phi Don village. Very near to the happening bar and restaurant.
Phi Phi Island Cabana Hotel - view from Ton Sai Bay
Loh Dalam Bay from the hotel balcony
Cabana hotel balcony
Phi Phi Don Village - Ton Sai Bay

Phi Phi island map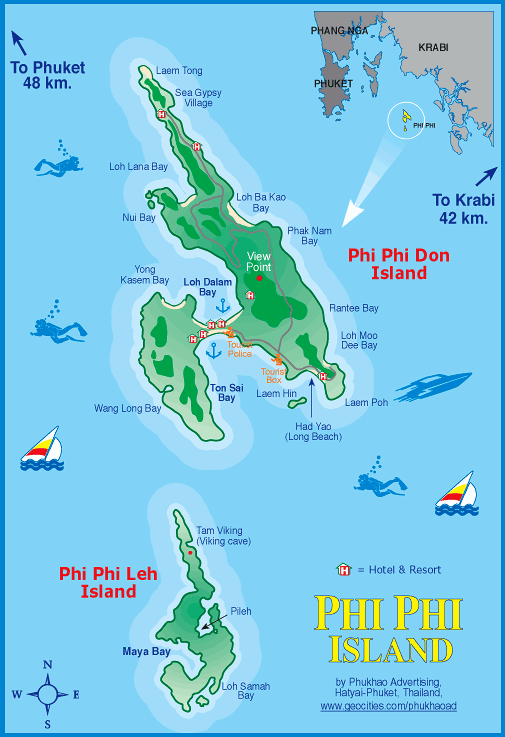 We went for a walk @ Koh Phi Phi in the evening after check in. We managed to climb all the way up to the view point for sunset... :-> Very nice sunset @ Phi Phi island. Will post an entry on Sunset @ Phi Phi with more picture and video clip :->
Stay tune eh! more to come :-)