Everyone will come into a point which you are standing in the center of the junction. The road that i walking rite now... i feel that i'm going to hit the junction which i might need to make a call.
My career life is enjoyable but not up to my expectation... I think all of you must be thinking i'm too demanding of myself... I got a chance to travel and moreover a good job with enjoyable benefits. But the job i have in long run... still not able to realize the long term benefit...

Anyway, I have been bother by something that i could not share over here now but will be able to share with all of you later. There will be a junction ahead of me and i'm preparing to make the call on which road should i proceed.

Hey, on the lighter side, my dad and friends are organizing a vacation to JiuZhaiGou, China. One challenge for me is i don't know whether i could manage to leave my work for the vacation... :-(
Let's see what i could do...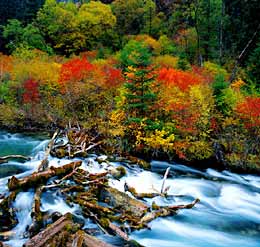 Image by http://www.china.org.cn/english/kuaixun/74869.htm