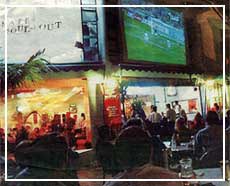 My colleague has organized a nite out @
Souled Out
, Desa Sri Hartamas. Left Penang @ about 14:00 and reached KL about 18:00. Took a nap before headed to Souled Out. I left my condo 10 mins before 20:00 and reached there 10 mins after 20:00. Only two of my colleagues reached there and the rest was still on the way.
Each of us ordered our main course and we also ordered couple of started for munching. I ordered Porterhouse steak and Pimm's No. 1 for drinks. My colleague ordered the Long Island Ice Tea and we just wondered what kind of alcohol content insides the drink. One of our colleague has the experience of bartending, so we were tried to test him what is the content of the Long Island Ice Tea. Before he answered our question, he asked "is it virgin?" The colleague whom ordered the Long Island Ice Tea quickly answer that she is not virgin... she lost virginity two years ago... blah blah blah... We are laughing out loud and teased her that the bartending colleague actually asked about the drinks not her... i don't think she was drunk as she only taken two sips... So, we started to tease her and she clarified that she just wanna to create some laughter and made the crowd more lively. She is a joker :-p ... So whether she is virgin or not? We don't have the answer, only she herself know the answer :-p
Do you know why my colleague asked "is it virgin? (he meant drink)" This is because if the drinks is virgin, it will only contain alcohol and juices, no water added. Otherwise, water would be added to the drink.
So when you order your drink next time... make sure you request and insist the bartender to preserve its virginity :-p LOL.
**************************************************************************************
Long Island Ice Tea Recipe
The Long Island Iced Tea (LIIT) is the basis of many elaborate mixed-drinks. It dates to the 70's, named after the USA's largest island,
Long Island
, in New York. Although it doesn't contain
tea
, it's taste is similar. The drink sits in the top 5 of most popular cocktails and is regularly mentioned or seen served in television and films (worthy mentions are The Simpsons, Sex and the City and Cruel Intentions).
Mix ingredients together over ice in a glass. Pour into a shaker and give one brisk shake. Pour back into the glass and make sure there is a touch of fizz at the top. Garnish with lemon.
Pimm's No. 1 Recipe
1 twist
cucumber
peel
Pour Pimm's over ice cubes in a large highball glass. Fill with 7-up, add twists of lemon and cucumber peel, and serve.